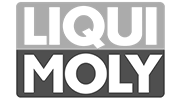 Liqui Moly is a renowned brand that excels in providing top-quality automotive solutions. With a strong focus on performance, reliability, and German engineering, Liqui Moly has earned its reputation as a leading name in the automotive industry.
At Liqui Moly, a comprehensive range of lubricants, additives, and car care products is meticulously crafted to enhance vehicle performance, protect against wear, and optimize longevity. From engine oils and fuel additives to transmission fluids and vehicle care items, Liqui Moly offers high-quality solutions that meet the stringent demands of automotive enthusiasts and professionals.
Contact us today to explore our Liqui Moly assortment and pricing. As a trusted distributor for Liqui Moly in Europe, we offer competitive wholesale prices and a comprehensive range of Liqui Moly automotive products. Whether you are looking for lubricants, additives, or car care items, we have you covered.
Get in touch with us now to discuss your wholesale needs and experience the benefits of partnering with us as your preferred Liqui Moly distributor in Europe.